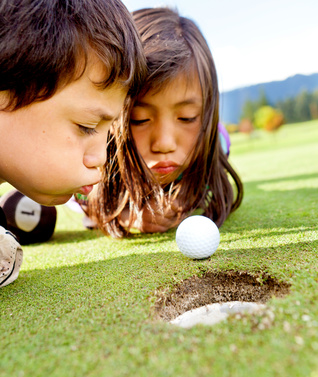 Last week I had the cool opportunity to take part in the Titleist Performance Institute (TPI) Junior Golf Training Level 2 Certification in Orlando Florida.
And I've got a TON of cutting-edge information to share with you, if you've got a child or grandchild who is interested in golf (or any other sport).
There is way too much to hit upon in one blog post, so I'll be revisiting this topic with more detailed segments over the next several months.
In a nutshell:  When it comes to junior golf training programs…we are doing it ALL WRONG!
By "we" I am referring to the junior programs in the US, but we are not alone here.
TPI is leading the way in the US, following the forward thinking efforts of researchers and coaches from Canada, New Zealand and Austria.
In this first post, I'd like to introduce the concept of Long Term Athletic Development, Functional Movement Skills (FMS) and the real reason the kids learn to love (or not love) sports.
Long Term Athletic Development
Long Term Athletic Development refers to a life-long performance model originally coined by Istvan Balyi in 1990.
This model, and the one adapted and developed by TPI, focuses on developing overall athletes first, then golfers.  This is accomplished by ensuring that juniors first acquire fundamental Movement Skills (see below), Fundamental Sports Skills second, and finally Sports Specific Skills.
Fundamental Movement Skills
Fundamental Movement Skills (FMS) are general patterns of movement that involve two or more body segments.  These patterns are essential for optimal performance in most sports.
FMS can be broken down into four major categories:
Locomotion: running, jumping, dodging, skipping, hopping, bounding, sprinting
Stability Skills:  agility, balance, coordination, speed, change of direction, dissociation
Object Control Skills:  throw, kick, strike, catch, dribble, dodge
Awareness:  spatial awareness, kinesthetic awareness, body awareness
Most current experts agree that a child that develops a better base of these FMS will develop all of the golf specific-skills at a faster rate and will be able to peak at a higher level.
So what does this mean for you and your child or grandchild?
First and foremost, get them involved with several different sports at a young age.  Some of the favorites among the TPI Junior Advisory Board are: soccer, martial arts, gymnastics, dance, and throwing sports.
Interesting side note:  Table tennis (ping-pong) has a strong transfer of skill sets to golf.  Word is that there are several Tour players that could compete at the national level, and there are huge competitions among them during off hours on tour… get your kid a table for the basement!
The Real Reason Kids Love Sports
The top five reasons that kids want to play sports (and stay in them):
1)  Fun
2) Friends
3) Fitting In
4) Feels Good
5)  Good At It
This list of reasons and motivations is vitally important to keep in mind when dealing with your children and sports.
The sad fact is that very few junior golf programs in the US fulfill any of the above 5 reasons for kids!
If you have a TPI Junior Golf Program in your area, by all means check it out.  Go HERE to the TPI Directory.
And here is a Parent Education Video Presentation explaining the details of the TPI Junior Program (20 minutes, but highly recommended).
In two weeks, I will address the much debated issue of when your child should start to specialize in golf… get your gloves on and be ready to rumble 😉
If you enjoyed this post, then join 13, 071 other golfers and get free email updates >>> Click Here<<<