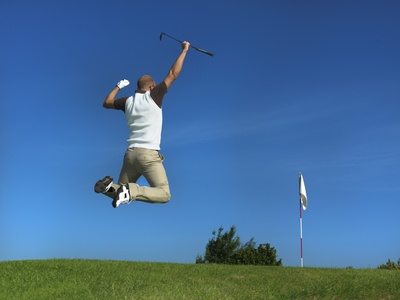 I've gotten a lot of questions lately about all the new golf energy bars and drinks that are flooding the market in the last 12 months.  I'll be doing a complete review of these nutritional supplements in an upcoming post.
In the meantime, I thought I'd highlight an older video clip showing a simple (yet VERY effective) way to tap into your body's natural energy stores.
Of course, you do need to have a good handle on your golf nutrition; but assuming that you are fueling and hydrating yourself properly, the down and dirty 20 second routine in this video post can truly enhance your golf energy, stamina, concentration and focus.
As usual, I'm going to skip all of the science (or pseudo-science) as to WHY it works.
Truth be told, none of my Renegade Golfers really give a crap… they just know that it DOES WORK.
And that's good enough for me 😉
Give it a shot yourself, and please let me know your results:
Ramp up your natural golf energy… And get after Old Man Par!
If you enjoyed this post, then join 13, 193 other golfers and get free email updates >>> Click Here<<<